Denver Neighborhood Seed Company
The Denver Neighborhood Seed Company project was created by Denver artist Kenny Be to commemorate the germination of Denver County Fair. Inspired by vintage seed packets, landmarks from each of Denver's 77 Statistical Neighborhoods are illustrated as colorful bigger-than-life garden vegetables.
Thirty neighborhood images were completed and displayed in the Welcome Pavilion of the first annual Denver County Fair in 2011. An additional 30 neighborhood images were created for a second "catalog," which was displayed at the 2014 Denver County Fair. The project is ongoing.
Images can be purchased as prints (in the sizes of 8.5" x11" or 11"x17"). Images can also be purchased as postcards. Just click on the contact button for more information.
2011 Denver Neighborhood Seed Company Catalog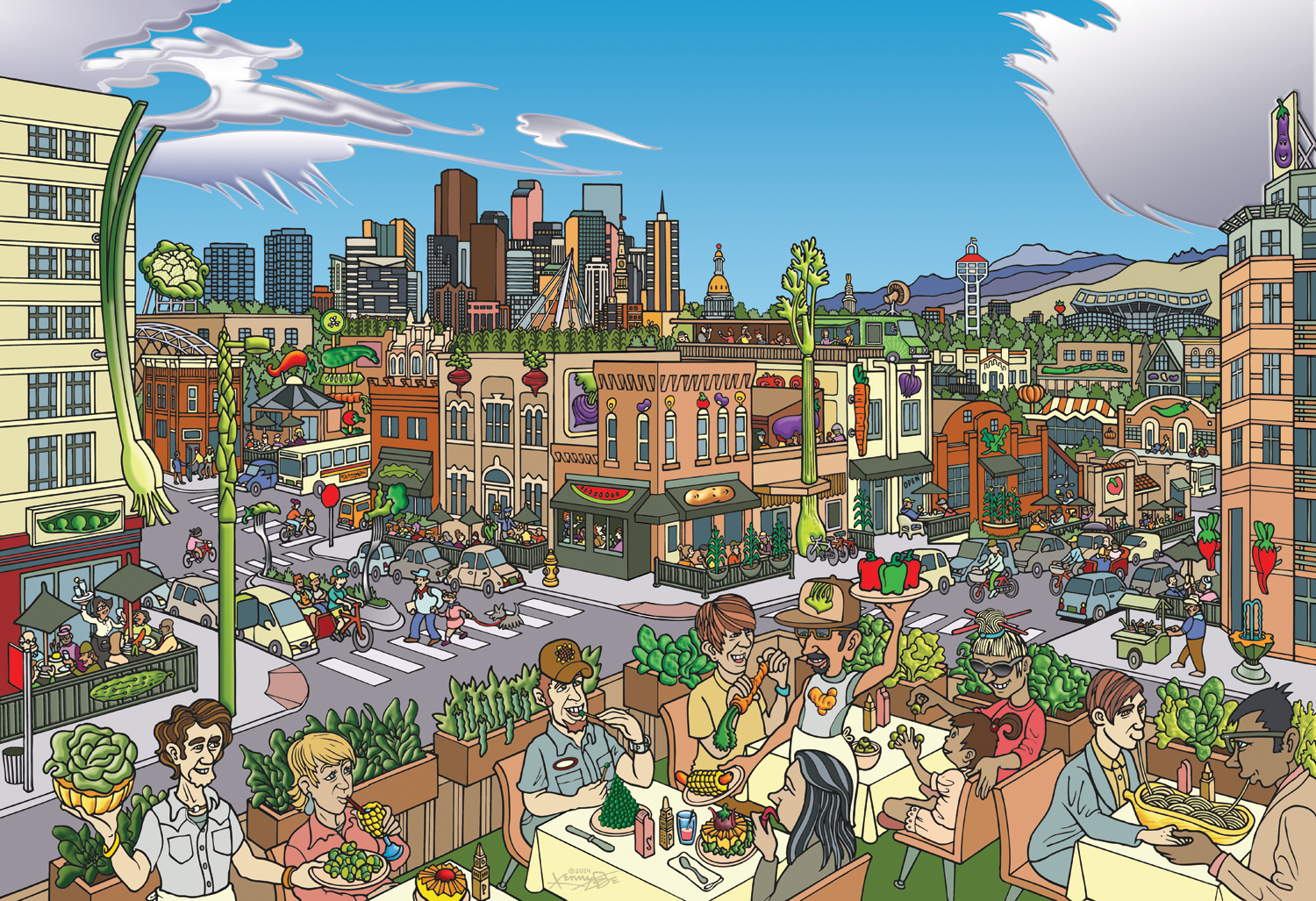 2014 Denver Neighborhood Seed Company catalog cover
Alamo Placita Arugula
While the battle for blue ribbons rages between homegrown fruits, vegetables and flowers at the annual Denver County Fair, it is almost certain that the arugula plant won't join the competition. Like the residents of the Alamo Placita neighborhood, arugula is frequently cultivated, but it can never be considered fully domesticated.
As seen in the illustration above, Alamo Placita arugula will thrive in any location - from backyard garden to high-rise condo patio container. These seeds love to be planted in dry, disturbed soil and are easy to grow in warm weather or cool.
Like the residents of the neighborhood, Alamo Placita arugula has a peppery taste that is a perfect compliment to cheesy companions. The plant is used as a leaf vegetable and is high in vitamin C and potassium.
The most organic of Alamo Placita neighborhood gardeners consider arugula to be an aphrodisiac and will resow plant seeds every three weeks throughout the growing season.
Athmar Park Fennel
In Greek mythology, Prometheus stole fire from Zeus and stored it in the hollow stalks of the fennel plant to free mankind from the brutish ignorance of the gods. Today, the plant grows wild in the yards of neighborhood bungalows and is eaten raw as a natural treatment for glaucoma and to control flatulence...
As illustrated in the Denver Neighborhood Seed packet shown above, Athmar Park Fennel is a hardy perennial herb with feathery leaves and a swollen bulb-like base that looks like a cluster of 1950s ranch-style bungalows packed on a long, curvy street.
The bulb, foliage and seeds of the Athmar Park fennel plant are widely used in many of the culinary traditions from around the world -- from Italian meatballs to French absinthe and Tom's of Maine Antiplaque Natural Toothpaste.
Athmar Park fennel is said to be one of the plants disliked by fleas, and Denver dog lovers have learned to place fennel leaves around dog beds to drive away fleas..
Baker Green Peas
Developed by hippies in the early 1970s, Baker green peas have been specially adapted for the cooler climate of the Baker neighborhood lifestyle. Guaranteed to produce a diversity of sustainable and nurturing pods, gardeners in all Denver neighborhoods are encouraged to give Baker green peas a chance...
As illustrated on the Denver Neighborhood Seed Company packet shown above, Baker green peas are the cool season crop that rises above all of the rest. Each plump, juicy pea is as sweet as a light rail car full of paying passengers.
Direct-sow on St. Patrick's day for platefuls of peas for your Father's Day barbecue. Direct-sow again on the Fourth of July for a fall crop. Vine height is about five feet. To save space and make pea-picking easier, provide a Baker green peas pole for this variety to climb on.
Baker green peas poles display the message "May Peas Prevail on Earth" and are available in stores on Broadway and Santa Fe, as well as yard sales throughout the Baker neighborhood. Peas out, brothers and sisters.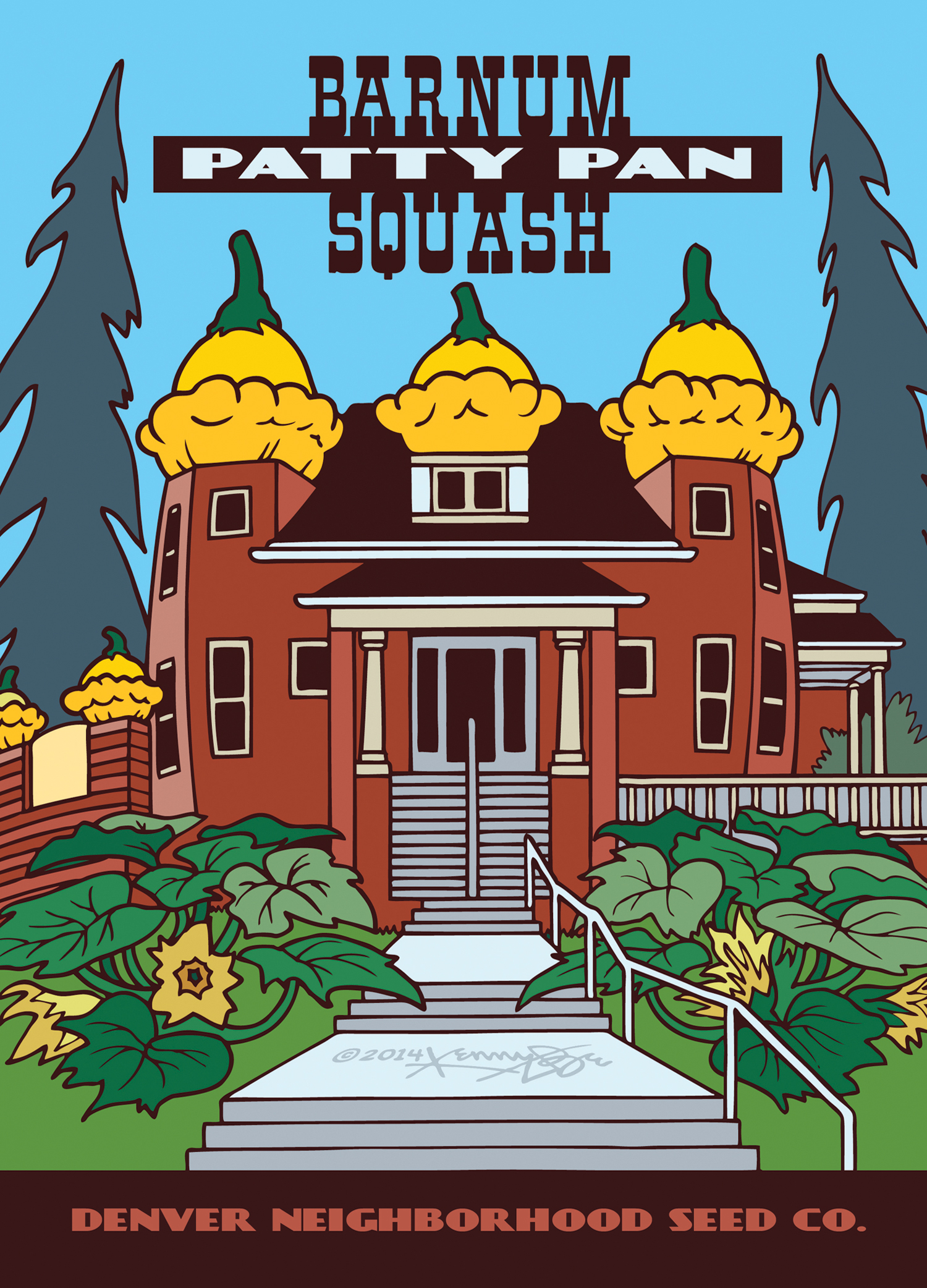 Bear Valley Watercress
Originally found along the banks of Bear Creek, the vitamin-rich medicinal qualities of Bear Valley watercress attracted seniors in search of better health to settle the neighborhood in the mid-1960s. Now grown in water gardens across the city, Bear Valley watercress is highly prized for it's ability to turn back time on aging and disease...
As illustrated on the Denver Neighborhood Seed Company packet shown above, the homes of the Bear Valley neighborhood arise symmetrically along curving streets much like the leaves along a hollow Bear Valley watercress stem. The plants contain significant amounts of iron, calcium and folic acid, in addition to vitamins A and C. Bear Valley watercress is a fast-growing semi-aquatic perennial that is member of the Country Club cabbage family.
Bear Valley watercress is also known as a stimulant, a great source of antioxidants, a diuretic, an expectorant, and a digestive aid. It is also widely believed to help defend against lung cancer.
Ever since a blogger on a neighborhood mommy group website advised mothers to feed Bear Valley watercress to their children to improve bodily growth, the demand has far exceeded the supply at the Cherry Creek, Highland and Stapleton Farmers Markets.
Belcaro Broccoli Rabe
Although it vaguely resembles broccoli, Belcaro broccoli rabe is actually an Italian bitter green with a pungent, assertive flavor. Much like the neighborhood for which it is named, Belcaro broccoli rabe is considered an acquired taste -- but once acquired, the flavor of this bitter green becomes beautiful and dear...
As illustrated on the Denver Neighborhood Seed Company packet shown above, Belcaro broccoli rabe celebrates the spirit of the neighborhood's Phipps mansion. Lawrence C. Phipps was a Carnegie Steel executive turned Colorado Senator who built a mansion east of Wash Park during the Great Depression in an effort to create jobs for the unemployed.
The mansion was named Belcaro, after an Italian word meaning beautiful and dear -- a perfect name for a building that provided much needed green to skilled workers during bitter times.
Fittingly, Belcaro broccoli rabe matures very quickly from seed. The green shoots have a captivating flavor that taste great when lightly sauteed with garlic and olive oil, tossed fresh in salads or slow cooked in soups.
Berkeley Broccoli
Berkeley has a long history of growing food for the creatures of Denver. In its early days, the entire neighborhood was an alfalfa farm that produced feed for the horses that pulled city streetcars. Over time, the land was developed into the city lots -- now tended by the urban farmers who supply the broccoli that fills the raw vegetable hors d'œuvre trays offered at art openings in the Tennyson Street Cultural District...

As illustrated on the Denver Neighborhood Seed packet above, broccoli has always been big in Berkeley. While the neighborhood's annual production of 27 pounds pales in comparison to the 9 million tons grown in the People's Republic of China, it remains a favorite in the vegetable gardens surrounding the Oriental Theater.
Grown to share with close friends and creative types at cultural events, Berkeley broccoli plants are prized for their big heads and tight buds. Good side shoots continue to grow long after the center head has been harvested. Like the residents of the district, Berkeley broccoli grows best in cool weather and full sun.
Capitol Hill Cannabis Indica
Of all of the competitions at the Denver County Fair (held from July 28 through 31, 2011, in the Expo and Stadium Halls of the National Western Complex), the most prized Blue Ribbon should go to Denver's most prized crop -- Capitol Hill cannabis indica...
As illustrated on the Denver Neighborhood Seed Company seed packet shown above, Capitol Hill Cannabis indica is different than all other Colorado farm crops because of its dependence on buildings. Indoor grow rooms can be found in the basements, attics and back bedrooms of Capitol Hill buildings from Broadway to Downing Street.
Broad-leafed Capitol Hill Cannabis indica plants were introduced to Denver by beat-generation poets and later cultivated by hippies for the production of Capitol Hill People's Fair Hashish.
Pharmacologically, the plant has a higher cannabidiol content than sativa strains and creates a body buzz that is beneficial in pain relief and the treatment of insomnia. Because of the history of breeding, Capitol Hill Cannabis indica is well-suited for growing in apartment buildings named for poets, women and exotic travel destinations.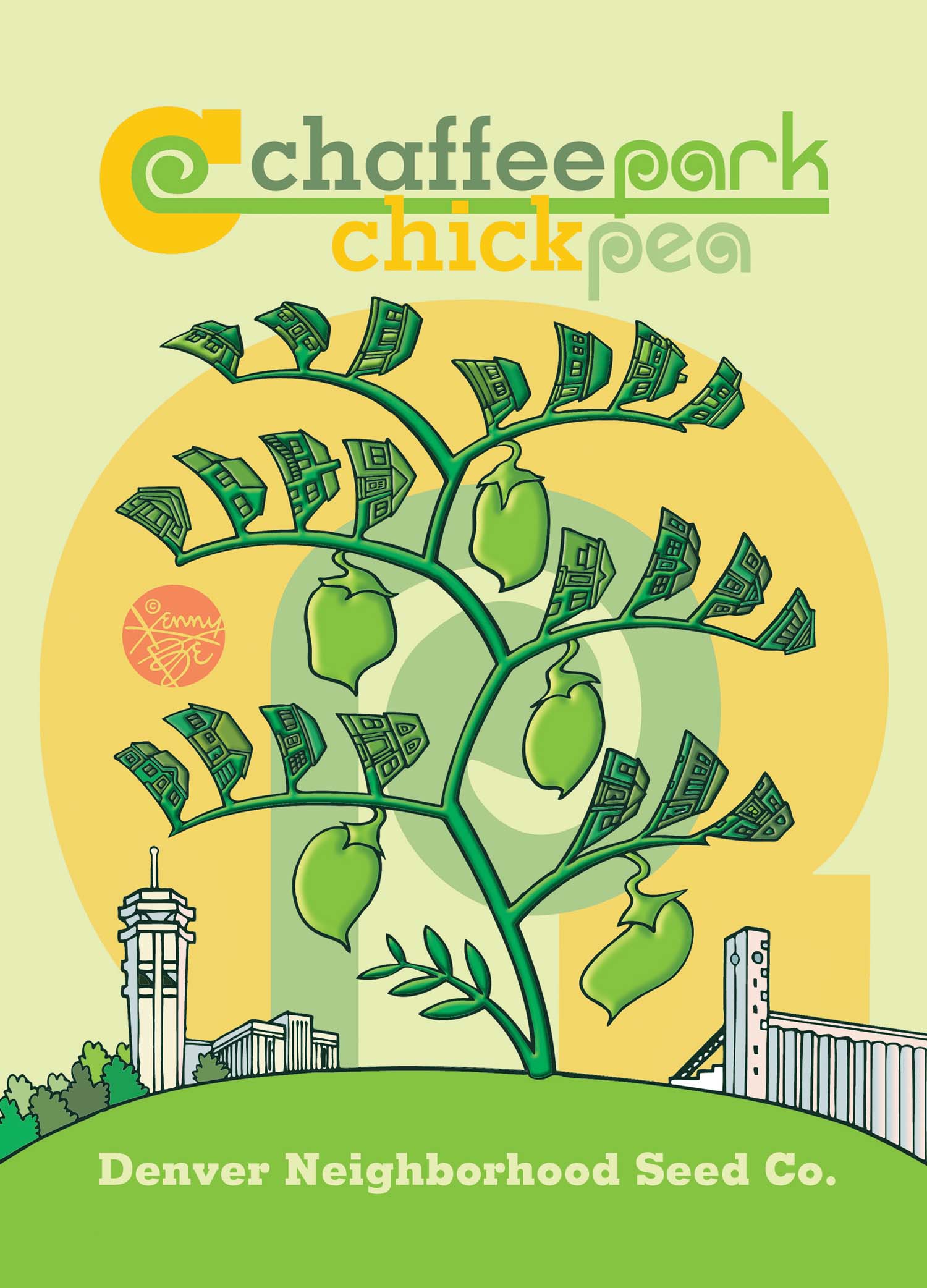 Cheesman Park Cucumber
In all probability, the Farm and Garden Pavilion of the Denver County Fair will be packed with high-rise-condo farmers when the the blue-ribbon pickle prize is announced. Summer growers of the new Cheesman Cucumber Balcony Bush Hybrid are sure to turn the parkside neighborhood into a pickle-lover's paradise...
As illustrated in the Denver Neighborhood Seed Co. packet above, Cheesman cucumber seeds grow into full-sized fruits with deep green and white high-rise residence-tower stripes. These are the perfect plants for people who are crazy for cucumbers, but don't have room in their lives for cumbersome vines. Great for condo corners and apartment window boxes.
The huge eight-to-twelve-inch cukes make this an urban farmer's favorite. And, much like Cheesman Park neighborhood residents, the Cheesman Cucumber Balcony Bush Hybrid is big on productivity, flavor, versatility and pickle-ability.
City Park Celery
Much like Denver's City Park, the celery plant has a long history of being all things to all people. While the celery plant has been used to embalm King Tut, decorate Greek athletes, flavor Italian meatballs and as a conduit for spray cheese, equally versatile City Park has been home to prismatic fountains, golfers, real pirates and screeching peacocks...
As illustrated on the Denver Neighborhood Seed Company packet shown above, City Park celery is much more delicious and dramatic than the store-bought stuff. This stylish cultivar has tall green stalks that attract historic statuary and garden gnomes alike!
Much like life in the City Park neighborhood, seeds start growing in the heat of summer and crops will be ready to harvest when the trees around Ferril Lake reach peak autumn color.
City Park celery is easy to grow and is suitable for container gardens -- just sprinkle seeds on well-prepared soil. The particular plant produces flavorful leaves that can be used in salads and sauces, while the stalks are best used as stir sticks for Bloody Marys.
Civic Center Golden Triangle Hybrid Spinach
Clayton Sweet Potato
Clayton sweet potato is ranked highest among all vegetables in nutritional value by the Center for Science in the Public Interest. It's no wonder that the Clayton sweet potato is considered more flavorful than its starchy white counterpart...
Clayton sweet potatoes thrive in hot weather and prefer a long season of warm summer nights to grow large, starchy sweet-tasting roots. The plant is a herbaceous perennial vine bearing heart-shaped leaves that are also edible. The tuberous root is long and tapered with the shape and color of the numerous brick ranch-style houses that occupy the Clayton neighborhood.
Clayton sweet potato grows well in many urban farming conditions and has few natural enemies. The plant is a tropical native and Denver gardeners will realize best results by mulching with black plastic to heat the surrounding soil. Clayton sweet potato will not tolerate frost and must be harvested before the first snowfall.
Clayton sweet potato is propagated by adventitious roots called "slips" that grow out from the tuberous roots during winter storage. Do not store in the refrigerator, harvested Clayton sweet potatoes prefer to spend their summers in the cellar and their winters in the garage.
Cole Pole Bean
Known as green beans or snap beans in other parts of Denver, Cole pole beans are excellent, inner-city stringless bean plants that are far more productive than the bush bean variety. The perfect choice for tight spots and narrow lots in historic neighborhoods, Cole pole bean plants become upwardly mobile when provided with a sturdy support system...
As illustrated on the Denver Neighborhood Seed Company packet shown above, Cole pole beans are as vital to the community as Cole Middle School. When given the proper support, Cole pole beans plants and Cole Middle School students will thrive under the toughest conditions and support the neighborhood in turn.
Cole pole beans should be planted four-to-six-inches apart at the base of a support pole, trellis or bean tower. Or just evenly space a package of seeds along a chain link fence and see what happens. Plants will thrive with ease and produce green beans that are more flavorful than any of the canned or frozen varieties found at the Downing Super!
Cole pole beans will grow with the slightest effort right up until the first frost. And much like the graduates of Cole Middle School, the stringless pods will stay sweet and tender-crisp even at full maturity.
Congress Park Cauliflower
Elyria-Swansea Heirloom Tomato
Green Valley Ranch Radish
Lincoln Park Asparagus - 2011
Lincoln Park Asparagus - 2015
Mar Lee Sweeties Cherry Tomoato
North Capitol Hill Uptown Carrot
Sloan Lake Purple Pop Top Turnip
South Platte Light Industry Yellow Onion
Stapleton Brussels Sprout
Union Station Mixed Greens
University Park Turban Squash
Virginia Village Cayenne Pepper
Washington Park Condo Corn
Washington Virginia Vale Watermelon
Windsor Garden Jumbo Cantaloupe